The Rainbow Mountain, Machu Picchu, Inca Trail and the Wonders of Peru-SOLD OUT
---
You can RSVP without a deposit, however please note that the deposit secures your spot.
Deposit Amount: 500.00
Let's celebrate 4th of July with a two-week trip to one of the most exquisite mountains in the world, seeing one of the Seven Wonders of the Modern World, hiking a must-do trail and visiting unique places in one of the most beautiful countries in the world! Come with us on a trip-of-a-lifetime to hike the breathtaking Vinicunca and the Inca Trail, see the majestic Inca city of Machu Picchu and visit beautiful Peru in a two-week vacation filled with adventure, fascination and fun.
This trip is not your average - we're going to do it 1000 Treks/Adventure Us style! We will not only be doing all the usual things tourists do but some extra activities many people never have the chance to experience.
Vinicunca itself is a unique location that only a few operators go to. At 17,000 feet and hidden deep in the Andes, reaching this unique colorful mountain is a whole day endeavor that takes very skilled guides.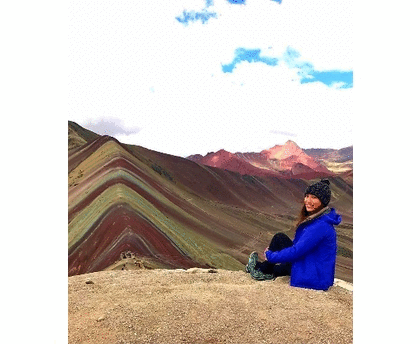 Another amazing (optional) activity will be to spend a night in the AMAZING Skylodge! If you have not heard of it, the Skylodge is a hotel where the rooms are made of glass, hanging on the side of a cliff overlooking the Sacred Valley of the Incas. In my book, this is a must-do!
Check out this clip:
We will also take a flight over the mystical Nazca Lines. These are world-famous mysterious drawings on the ground, called geoglyphs, which to this day puzzle archaeologists and historians. They are thought to have been made as early as 600BC and can only be seen when flying thousands of feet above.
Here is a run-down of what we're going to do on this two-week trip of a lifetime:
- Spend three days in the beautiful city of Cusco, visiting Inca ruins and other unique sites.
- Climb the breathtaking Via Ferrata, spend the night at the Skylodge (optional) and zipline back down.
- Hike the breathtaking Vinicunca, La Montaña de Siete Colores, or The Rainbow Mountain.
- Hike the two-day Inca Trail.
- Spend one night camping in the Andes.
- Visit the city of Aguas Calientes and soak in its hot springs (perfect after a four-day hike).
- Take a beautiful scenic train ride through the Andes Mountains on a Vistadome train.
- Visit Lake Titicaca, the largest lake in South America.
- Visit the exotic Uros floating islands at Lake Titicaca
- Spend the night at a local indigenous family house at Lake Titicaca (very cool!).
- Visit the city of Lima, the capital of Peru.
- Visit Paracas National Reserve and Ballestas Islands, with such an incredible variety of animals that it's often compared to the Galapagos Islands.
- Visit Huacachina, an authentic oasis in the middle of a sandy desert.
- Fly over the Nasca lines.
- And of course, see the mystical and beautiful Inca City of Machu Picchu, one of the Seven Wonders of the Modern World.
Our itinerary is truly one-of-a-kind, but to top it off, we will be doing something that no other company does - we will train you to reach Vinicunca and to complete the Inca Trail hike. We are a team of very experienced leaders who have a lot of outdoors and teaching experience. Eduardo is a fitness trainer with extensive outdoors experience. He has successfully trained two groups that had a 100 percent summit rate, climbing the tallest free-standing mountain in the world, Mt. Kilimanjaro. Olga, who is going to be your leader in Peru, is a former competitive swimmer and instructor and a professional rock climbing guide and instructor with over 10 years of experience. Eduardo has done the Four-Day Inca Trail before and successfully trained the group to finish the full trek.
Reaching Vinicunca is a very tough undertaking. The trail itself is not considered steep, but the altitude of 17,000 feet makes it a very demanding hike and people NEED to be physically prepared and ready to face that kind of altitude. Altitude training will be a major focus of our preparation so you will not only finish the trek, but will actually enjoy it. We have put together hikes and backpacking trips specifically designed to train for this so, no matter your experience level, you will succeed, have a great time and meet some fantastic travel mates.
Day-by-day itinerary
SATURDAY, JUNE 30: ARRIVE IN CUSCO + WALKING TOUR OF CUSCO
We'll arrive in Cusco before 12:00pm and be transferred to our hotel.

2:00 PM - WALKING TOUR
We will be visiting the following places:
· Main square of Cusco
· Wall of 12 angles stone
· San Pedro market
· San Blas (Artisan neighborhood)
· Cathedral of Cusco
· Koricancha
Accommodation: Hotel Rumi Punku, Tierra Viva or Similar
Meals included: N/A
SUNDAY, JULY 1: VIA FERRATA + SKYLODGE
We will be picked up from the hotel at 8:00 am and taken to the breathtaking Sacred Valley of the Incas.
There we will climb a via ferrata. What's a via ferrata? Well, I'm glad you asked! A via ferrata is a protected climbing route, where iron steps with steel cables running parallel are built along a cliff to make climbing very easy. You are also harnessed and clipped to a safety cable. This turns a wall that would be sometimes impossible to climb into an easy and safe experience, but it is still very exciting, as you sometimes ascend thousands of feet this way. To add to the excitement, once you get to the top, you get to zipline down! There is only a handful of via ferratas in the world, and Sacred Valley via ferrata is considered by many the most beautiful of all.
The adventure is only just beginning though! Eight of us will have the option of climbing and then staying there for the night! The company that built the via ferrata at Sacred Valley also built glass hanging capsules on the side of the cliff, where people can spend the night. This is The Skylodge.
Unbelievable, right? And, guess what? I have reserved all the capsules for our group that day. This will no doubt be one of the coolest nights of your life, so book in quick to secure your spot as one of the eight. You will have dinner at the Skylodge, sleep overnight then have breakfast, before ziplining back down to join the rest of the group.
Other members of our group not spending the night will zipline down and go back to our hotel for the night.
Accommodation: Hotel Rumi Punku, Tierra Viva or Similar
Meals included: Breakfast
MONDAY, JULY 2: CITY TOUR + SACRED VALLEY
After breakfast, the group will be picked up from the hotel at 7:00am to start the tour and visit the following places;
· Sacsayhuaman: Majestic place with impressive works in stone, some up to 120 tons.
· Q´enqo: (Labyrinth) a religious center dedicated to the adoration of the Earth.
· Puca Pucara: (reddish place) that was used as a military control center.
· Tambomachay: (Temple of the Water) a center of adoration and worship of water.
We will then continue on to the Urubamba Valley, visiting the vibrant Indian market in Pisac where we will have the opportunity to appreciate the mixture of color and tradition. Here we will also be able to test our bartering skills, interact with the local craftsmen and purchase their hand-made souvenirs. Pisac is located at the entrance of the Sacred Valley. The Valley is 31km/19miles from Cusco at an altitude of 2,970m/9,700 ft.
Followed by Pisac is a visit to Urubamba where we will have a delicious buffet lunch at Tunupa Restaurant, then continue through to Ollantaytambo, the oldest continuously occupied town on the American continent. The narrow streets of Ollantaytambo, along with their canals, have not changed much from the time of the Inca Empire. They evoke their ancestral inheritance and give a feeling of what it would be like to live during that time. The last stop for the day will be the Chinchero market. Chinchero is believed to be the mythical birthplace of the rainbow. We will return to the Plaza de Armas in Cusco at approximately 6:30pm.
Accommodation: Hotel Rumi Punku, Tierra Viva or Similar
Meals included: Breakfast
TUESDAY, JULY 3: VINICUNCA, THE RAINBOW MOUNTAIN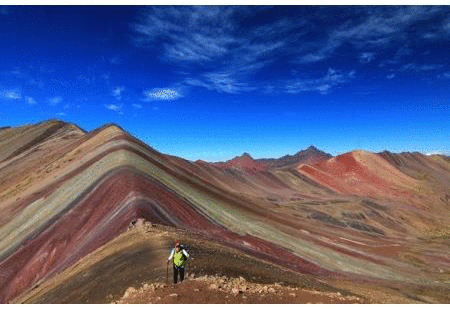 Today we will experience one of the most beautiful sights in the entire world: Vinucnunca, La Montaña de Siete Colores. With its beautiful colors created by mineral deposits over millions of years, the mountains used to be hidden by a thick layer of ice. As the temperatures in the area started to rise, the melted ice revealed its breathtaking colors. It is considered sacred by the locals who believe it to be the deity Cusco.
They will pick us up at our hotel at 4.00 a.m. It is about a three and a half hour drive in a private van, during which we will pass through traditional villages and see some amazing views of the Andes. When we reach the trail head we will stop and enjoy a lovely breakfast, prepared by our trekking chef. After breakfast, we will begin the hike from Chillca, at 3,700 m/12,139 ft elevation. From here, it will be a four hour, uphill hike to reach the famous Rainbow Mountain. Along the way, we will enjoy amazing views of the Andes, glacial peaks, red mountains, rocky hills, and traditional llamas and alpacas grazing along the valley. As we reach the summit of the mountain, we will be able to spot some Andean wildlife. This is the only place in Cusco where you can see wild Vicuñas, the Andean camel. Vicuñas are in the same family as llamas, although they are smaller. They are really cute! Their wool is the most expensive wool in the world.
Once we arrive at the top of Rainbow Mountain, you will have enough time to absorb the majesty of the red mountains that surround this area. We will also see amazing views of the valleys and Ausangate Glacier Peak in front of us. Ausangate is the tallest mountain of the Cusco region (just under 21,000 ft elevation) and is part of the Cordillera Vilcanota Range. While taking in these magnificent views, our staff will bring us some hot drinks and share some information with you about the composition of these mountains and how they became striated in the rainbow of colors. After taking a few amazing pictures and soaking in the views (perhaps we will even see a few condors floating on the air currents), we will begin our descent with a two hour, downhill hike. We will then meet up with our trekking chef and enjoy a delicious, freshly prepared, hot lunch. After lunch, we will start our return trip back to the Chillca village, to catch our private van back to Cusco. We will be back at our hotel around 7 - 8 p.m.
Accommodations: Hotel Rumi Punku, Tierra Viva or Similar
Meals Included: Breakfast and Lunch
Entrance Tickets: Included
WEDNESDAY, JULY 4: FREE DAY IN CUSCO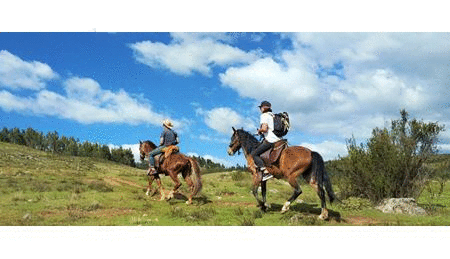 Today we will have the full day to enjoy Cusco on our own. We'll have several options:
- Relax at the hotel.
- Go exploring Cusco on our own, perhaps revisiting some of our favorite places form our Cusco tour a few days before and go shopping for souvenirs.
- Do activities such as horseback riding around the beautiful Sacred Valley, go whitewater rafting on the Urubamba river or go bike riding.
Accommodations: Hotel Rumi Punku, Tierra Viva or Similar
Meals Included: Breakfast
THURSDAY, JULY 5: THE INCA TRAIL + CAMPING IN THE ANDES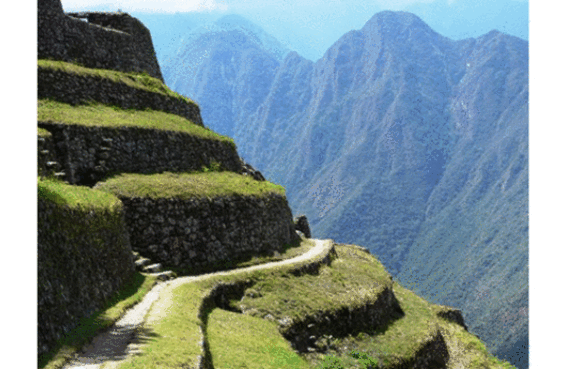 We will be picked up from our hotel at 4:00 a.m. Following, we will go to the train station and leave on the 6:10 a.m. train, from Ollantaytambo. This is one of the most magnificent train rides in the world, with its phenomenal views of the rough-and-tumble Urubamba River, the soaring snow-capped mountain peaks and cornfield farms. As we descend, you will see the micro-climate changes, from the mountains and cornfields to green jungle valleys with ferns, bromeliads and orchids, as the temperature starts to get warmer.
This train ride is one hour and 45 minutes to Km 104, where we'll disembark to meet our trekking chef and porters. We will also enjoy breakfast before starting our trek. Be sure you bring your original passport, since this is the very first checkpoint along the Inca Trail.
After breakfast, we will have some time to prepare, before beginning the hike. Soon after, we will get to explore the first Inca site: Chachabamaba. Chachabamaba was the first ancient Incan checkpoint for entering to the Inca trail. Our tour guide will give us some background history on this ruin, followed by the three hour climb up to the most famous Inca site along the trail, Wiñay Wayna. You will see amazing views of the Machu Picchu Valley and the Urubamba River along the trail, as well as the flora and fauna native to the area. There are also waterfalls, and spectacular views of the Machu Picchu Mountain. The trail itself has some flat areas, as well as some short uphill and downhill hikes. It also has steps, arranged in sections, that can be narrow in some areas, but not dangerous. Once we arrive at the Wiñay Wayna Inca site, we will have a guided tour of the ruins. We will also have time to explore the site with its temples, waterfalls, gardens, storehouses, watchtowers and farming terraces. It is only a short walk to the lunch spot, where our trekking chef and porters will be ready with cold drinks and delicious, fresh food, prepared by our cook, and served buffet-style.
After lunch, there will be time for a short nap. Following, it will be a one hour, gradual up and downhill hike to get to the Sun Gate, where we will have spectacular views of Machu Picchu, Wayna Picchu and the surrounding valleys. The Sun Gate was used by Incas to observe the sunrise from Machu Picchu during the summer solstice. From here, it is another hour hike to the Machu Picchu ruins.
Once in Machu Picchu, we can explore the watchtower area where we can get charming pictures of Machu Picchu without the crowds that are usually there in the morning. We'll then take a 20 minute bus ride to the campsite of Puente Ruinas. When we arrive at the campsite, our tents will be all set up. We will meet our porters, and enjoy a social happy hour with hot drinks and dinner. Later in the evening, we'll have a small ceremony with your chef and porters in order to say thank you to them.
Highlight: Trekking the Inca Trail, enjoying the views from the Sun Gate, sunset views from Machu Picchu, camping at the foot of Machu Picchu
Walking Distance: 15 km / 8 miles
Elevations: Trek starting point 2,000 m, the highest point is Sun Gate 2,720 m, the camp is at 1,900 m
Accommodations: CAMPING
Meals: Included
FRIDAY, JULY 6: MACHU PICCHU
There will be an early wakeup call with hot drinks. We will have time to prepare our duffel bags and day packs, and enjoy breakfast before walking to the bus station to be one of the first in line to go up to Machu Picchu. The first buses will depart at 5:30 a.m. and arrive at 6:00 a.m. in Machu Picchu. You must have your original passport at the checkpoint. Our tour guide will take us to the perfect spot to enjoy the sunrise over the mountains (weather permitting). We'll then have a two hour, private, guided tour of the Machu Picchu ruins, with all of its fascinating history. We will also have free time to explore Machu Picchu on our own. There are a lot of things to see around Machu Picchu: see the Inca Bridge, climb up to Sun Gate, or walk around the temple and residential areas of Machu Picchu to mingle with the llamas.
When we are done, we will take the bus back down to Aguas Calientes and have a free day in this exquisite Andean town. Some people choose to get a massage, some people choose to soak in the hot springs (Aguas Calientes means Hot Springs) or just walk around and see the town.
Today we will also meet up with our friends that did the 4Day Inca Trail.
Accommodations: Waman Hotel, La Cabaña or similar
Meals Included: Breakfast
Entrance Tickets: Included
SATURDAY, JULY 7: FREE MORNING IN AGUAS CALIENTES AND BACK TO CUSCO
Today we'll have a free morning in Aguas Calientes and in the afternoon we'll hop on a Vistadome (glass train) for a breathtaking ride through the Andes mountains and back to Ollantaytambo train station. This train ride is listed as one of the TOP TEN RIDES IN THE WORLD.
Accommodation: Hotel Rumi Punku, Tierra Viva or Similar
Meals included: Breakfast
SUNDAY, JULY 8: CUSCO – PUNO
After breakfast, we will be picked up at 6:00am and taken to the bus station for a luxury ride to the city of Puno.
We'll stop at four interesting sites along the way, each with guided tours:
Andahuyalillas: Sistine chapel of South America - this church is one of the most beautiful examples of Andean popular religious art.
Raqchi (Wiracocha God Temple): This is an Inca church of monumental dimensions; 100m long, 26m wide and 14m high. The temple is divided in two naves and each nave shows 11 giant columns.
La Raya: This is the half-way point between Cusco and Puno and also the highest point (4335m above sea level). The landscape here is stunning and typical Andean animals like the llama, alpaca and vicuña are common. It is also the geographic border between the two cultures, Quechua and Aymara.
Pukara: This is the most important and oldest ceremonial center of the altiplano and has interesting life-sculptures and tombs.
Arrival time at Puno will be around 5:00pm.
Accommodation: Tierra Viva Puno or similar.
Meals included: Breakfast
MONDAY, JULY 9: UROS ISLANDS AND AMANTANI
Next, we will spend two amazing days at Lake Titicaca, the largest lake in South America, where we will spend one night on the Island of Amantani in a home stay with indigenous families.
Between 7:40am and 8:00am, we will be taken to the port where we'll catch a boat to one of the legendary Uros Islands. Here we will get to observe the lives of the Uros people who live on floating reed islands, some only 20m long!
After our beautiful three-hour boat ride we'll reach Amantani Island where we will break into smaller groups to stay with the local families. We'll have the opportunity to trek to the top of the mountain (13,625 feet above sea level) to see the temples of the Pachamama and Pachatata and enjoy the traditional customs of the island people. Throughout this section of the trip we will enjoy food and authentic music by our designated family.
Accommodation: Overnight with a local family (Amantaní)
Meals included: Breakfast, lunch and dinner
TUESDAY, JULY 10: TAQUILE ISLAND – PUNO + FLY FROM JULIACA TO LIMA
After breakfast, we take a short boat ride to the neighboring Taquile Island, where we will tour around the ruins and visit the beautiful local people, world-famous for their intricate and fascinating weavings. After lunch we will take the return trip to Puno and get transferred to the airport for our flight to Lima.

Accommodation: San Antonio Abad Miraflores or similar
Meals included: Breakfast
WEDNESDAY, JULY 11: LIMA + CITY TOUR
Today we will explore Lima with a city tour starting at 9:00am.
We will be visiting the following places:
· 'Huaca Pucllana': A magnificent ceremonial and archeological center.
· The historic center of Lima.
· Colonial buildings: Plaza Mayor, the Government Palace, the Archbishop's Palace, the Cathedral, the City Hall.
· The Central Bank Museum.
· San Francisco.
· The modern Lima.
Accommodation: San Antonio Abad Miraflores or similar
Meals included: Breakfast
THURSDAY, JULY 12: LIMA - PARACAS, RUTA DEL PISCO & HUACACHINA (WITH DUNE BUGGY TOUR)
This will be a fun-filled day that will start VERY early – we will be picked up at 3:00am! (Don't worry, you can go back to sleep on the bus!). Today we'll be doing the Ruta del Pisco, where we'll travel through the beautiful Ica Valley and visit vineyards that make pisco, the national drink of Peru. After that, we'll head to Paracas National Reserve and go on a boat tour to the breathtaking Ballestas Islands, often compared in a small scale to the Galapagos Islands for its beauty and variety of animal life. We'll get to see the beautiful blue-footed booby, sea lions, seals, penguins, guano birds and turtles. We'll also get to see our first geoglyph, El Candelabro, a large drawing of a chandelier carved on the side of the sand dunes somewhere around 600-200 BC.
We will then board the bus and head out to Huacachina Oasis, an authentic oasis on the border of the Atacama Desert. This is one of the driest places on Earth and sports gigantic sand dunes. Here you will have the opportunity to go on a dune buggy tour (included) and try sandboarding.
We are aiming to stay here until sunset so we can watch a magnificent sunset from the dunes before heading out.
We'll arrive at Nasca at the end of the day for a much-needed rest.
Accommodation: Casa Andina Classic Nasca or similar
Meals included: Breakfast
FRIDAY, JULY 13: NASCA LINES
Today we'll get so see something only a handful of people in history have had the privilege of seeing - the mysterious Nasca Lines. These are ancient geoglyphs created 2,500 years ago that can only be seen by aircraft.
The Nazca Lines we will see include the monkey, dog, whale, tree, hands, the astronaut, hummingbird and spider, among others.
Depending on the size of our group, we should be done by early afternoon. We'll have the rest of the day free in Nasca.
Accommodation: Casa Andina Classic Nasca or similar
Meals included: Breakfast
SATURDAY, JULY 14: LIMA
Today we will be picked up early at the hotel for our trip back to Lima on a coach. We should back in Lima by early afternoon and will have the rest of the day free. That night, the group will have the chance to go to the bohemian district of Barranco to celebrate a successful trip and new-found travel friends.
Accommodation: San Antonio Abad Miraflores or similar
Meals Included: Breakfast
SUNDAY, JULY 15: RETURN TO USA
After two full weeks and one of the most amazing vacations of our lives, we will get transferred from the hotel to the airport for our flight back home with memories we will cherish forever.
Accommodation: N/A
Meals included: Breakfast
PRICE AND PAYMENT TERMS:
- Price: $2,995 for the first 10 people who sign up. Once those 10 spots are filled, we may be able to open up additional reservations but the price will vary.
- A deposit of $500 (non-refundable) reserves your spot. You then have until March 30 (90 days before departure) to complete the full payment. This can be organized as installments or as a one-off.
CLICK HERE TO MAKE YOUR DEPOSIT
- If you want to spend the night at the Skylodge, we will send you a separate invoice for $456.00. That invoice will be due upon receipt.
INCLUDED
- Juliaca – Lima airfare.
- All hotel stays at double occupancy (please see ABOUT OCCUPANCY below)
- All transportation to our scheduled activities as well as to and from terminals to hotels while with the group (if you do your own activity, arrive or leave at a different day, you'll have to arrange your own transportation).
- All breakfasts (included with the accommodation).
- Entrance fees to our activities.
The two-day Inca Trail hike includes:
- Entrance fee to the Inca Trail.
- Entrance fee to Machu Picchu.
- Professional bilingual tour guide.
- Assistant guide (for groups of nine people or more).
- Transportation – bus to Kilometre 82 and train back (Vistadome).
- Bus ticket from Machu Picchu to Aguas Calientes.
- Collection from Ollantaytambo train station.
- Water (you need to bring your own water for the first morning only. After that, you will be provided hot or cold boiled water).
- Meals at the trail.
- Dining tent with tables and chairs.
- Professional chef.
- Tent (4-person size per two people).
- Foam mattress pad.
- Porters to carry cooking and camping equipment (foam mattress pad and camping tent only).
- Oxygen bottle.
- First aid kit.
NOT INCLUDED:
- Flights other than Juliaca-Lima (see FLIGHT below).
- Meals unless specifically stated in the itinerary.
- Travel insurance (highly recommended). We do offer Travel Guard travel insurance and can send you a quote once you pay your deposit. You can also book your insurance with any number of other agencies.
- Tips to guides, drivers, staff, etc.
- Rentals.
- Souvenirs or anything extra you would like to purchase.
- Any activity not described in the itinerary.
The two-day Inca Trail hike does NOT include:
- Sleeping bags.
- Inflatable mattress.
- Trekking poles.
- Gratuity.
ABOUT OCCUPANCY:
- Double occupancy: you will be paired up with someone of the same gender as a roommate and tent mate. Friends/partners/family traveling together will automatically be paired up.
- Single supplement (if you want a room for yourself), add $900.00.
- If you want a tent for yourself at the Inca Trail, add $50.00.
- The last people to RSVP and pay the deposit MAY be put in triple occupancy rooms (if we end up with an odd number of men or women).
FLIGHT
Flights are NOT included to allow travelers the option of booking side trips or using personal points or miles for cost-effectiveness. While we don't book the flights for you, we will offer suggestions on which are appropriate and you can go through agencies such as Kayak.com, Expedia.com, Orbitz.com, or any other booking website. The best time to book a flight is usually three-four months before departure (the best day is Tuesday and the best time is between 12:00pm and 3:00pm). We will book our flights at that point and then will e-mail the group with these details. If you do book the same flight from LA, we'll meet at LAX. If not, we'll just meet you in Cusco. A shuttle to the hotel is included regardless, as long you arrive on the same day as the group.
FLIGHT GUIDELINES
- Arrive in Cusco on Saturday, June 30 by 12:00pm (noon).
- Leave Lima (NOT CUSCO) on Sunday, July 15 before 5:00pm. Our checkout time at the hotel is 11:00am.
- It is cheaper to buy a round trip flight to Lima (as of right now the cost is about $700) and a separate ticket to Cusco (right now about $100) than to buy them together.
SOME OTHER IMPORTANT THINGS TO KNOW
- Because of the adventurous nature of our trips, our itinerary and some locations are subject to change due of weather, tides, road conditions, logistics and other unforeseen circumstances. It's not likely, but it could happen. Whenever we make a change in the itinerary, we will do our best to keep the integrity of the trip.
- A current passport is required, of course. If you don't have a valid passport, make sure to get started on it ASAP. Here's the link for the Department of State Passport section: https://travel.state.gov/content/passports/en/passports.html
- As of right now, American citizens don't need to get a visa in advance. You will be issued a visa when you arrive in Peru. If you have a foreign passport, you may need to get a visa in advance. Here's the Peruvian Consulate website for you to look into that: http://www.consuladoperu.com/
LEGAL DISCLAIMER AND RELEASE OF LIABILITY STATEMENT
1000 Leagues Travel, 1000 Treks, Adventure Us and their event/assistant organizers, representatives, agents, employees, and/or any affiliated person, company or entity are not responsible for your safety. Outdoor activities are inherently dangerous. By participating in any event, you're taking responsibility for your own safety and well-being and agree to release 1000 Leagues Travel, 1000 Treks, Adventure Us group and their event/assistant organizers, representatives, agents, employees, and/or any affiliated person, company or entity from ANY responsibility, liability or claim in law or in equity.
You acknowledge and understand fully that there are risks and dangers of serious bodily injury or death that could result from your participation in this event. You have voluntarily elected to participate and FULLY ACCEPT AND ASSUME ALL RISKS AND ALL RESPONSIBILITY FOR ANY INJURY, LOSSES AND DAMAGES TO PERSON OR PROPERTY THAT INCUR AS A RESULT OF YOUR PARTICIPATION.
You represent that you are qualified, in good health and in proper physical condition to participate in this event.
You agree not to sue and to release, discharge, waive, hold harmless and to indemnify 1000 Leagues Travel, 1000 Treks, Adventure Us and their event/assistant organizers, representatives, agents, employees, and/or any affiliated person, company or entity from and against all liabilities, claims, demands, losses, damages, suits and proceedings, regardless of the cause, including but not limited to, the negligence of any releasee, arising or resulting from your participation in these events.
You understand that the 1000 Leagues Travel, 1000 Treks, and Adventure Us may, from time to time, take photographic, digital or video images of event participants for advertising purposes. You hereby agree to allow 1000 Leagues Travel, 1000 Treks, and Adventure Us to use those images for that purpose without expectation of privacy or remuneration.